The Flight Review is required by Federal Aviation Regulations for all pilots who intend to act as pilot in command of an aircraft. Formerly known as a BFR (Biennial Flight Review), the title has been shortened a bit – but the requirements are still the same. Every two years – you need a one hour ground session to review Part 91 regulations, and a flight portion whose length is determined by the instructor.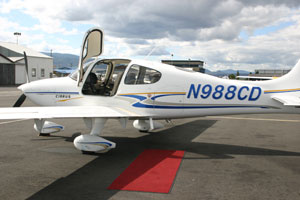 The Flight Review is not a test or checkride. Although the instructor can decide that more training is needed before signing your logbook, overall it should be viewed as a positive thing, like the way Greg treats recurrent training. There are ways to shorten or eliminate the requirement for a Flight Review, like participating in the FAA WINGS program or earning something new (like your instrument rating).
Why not combine your Flight Review with something new?
Use your flight review time to accomplish a second goal. Maybe you haven't flown to the monutains in awhile. Maybe you'd like to tackle SoCal airspace. Greg will work with you to sharpen the skills you depend on most in your regular flying.
WINGS Program In Lieu of Flight Review
Greg is proud to help facilitate his clients' participation in WINGS, the FAA-sponsored pilot proficiency program. Pilots may earn WINGS Flight credits by engaging in self-study ground courses or in-person seminars – plus some flight training segments. Completion of the WINGS phase flight syllabus, along with approved ground courses, is sufficient to qualify for the Basic Level that satisfies the requirement FAR 61.56 for a current Flight Review.  Note that this is not itself a Flight Review. It is done in lieu of a Flight Review. Instructors, therefore, will not endorse logbooks for a Flight Review.
Whether you rent airplanes or have your own, contact Greg with questions and to schedule your Flight Review. He looks forward to hearing from you!
---
// READBACK