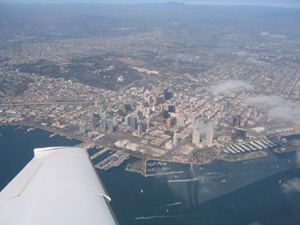 Flying around the Bay Area is one thing, but navigating the airspace maze that is SoCal is another (and often in less-than-ideal marginal VFR due to smog!).
With hundreds of hours of flying between the Bay Area and Southern California, Greg will share his knowledge of preferred routes, altitudes, and VFR transitions that keep ATC happy.
Pictured here is San Diego as seen from the VFR corridor over Mission Bay. Incredible sight, but be careful: Class Bravo airspace is everywhere. If you are a bit intimidated by the Los Angeles and San Diego Class B airspace, or if you're unsure your radio skills can keep up with SoCal Approach, then take Greg along on your trip! You can even arrange to have the time count toward your Flight Review if yours is coming due.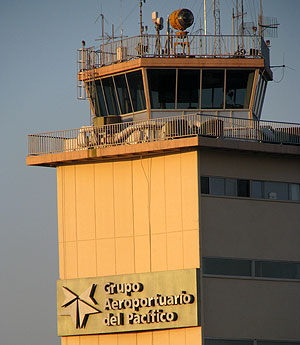 Heading south of the border? Confused about the changing requirements for international flights? Need help to ensure that your return through U.S. Customs is a smooth one? A quick trip across the border – to Ensenada, San Felipe, or Tijuana would be a great first trip for you to experience the procedures and paperwork. After that you'll be good to go on your own without any difficulty.
For any long distance trip (South, North, or East) Greg will provide competent and practical flight instruction on how to get to your destination safely. Greg has been as far as Martha's Vineyard in a GA aircraft – and he guarantees it really is a fun way to go! Please contact Greg with your questions about his flight training services. He looks forward to hearing from you!
---
// READBACK