Greg is a Platinum CSIP – Cirrus Standardized Instructor Pilot – which means that he is factory trained and regularly audited by Cirrus to continuously provide superb instruction in Cirrus SR22 and SR20, all model types – SR-22T G5 with Garmin Perspective avionics, SR22T and TN G3 (Perspective and Avidyne), SR-22 G2 Avidyne, and all variants.
From the Cirrus Flight Training website:

CSIP: These professional flight instructors have undergone extensive ground and flight training in Cirrus aircraft to distinguish themselves as an expert in Cirrus flight training. All CSIPs use standardized flight operations manuals, syllabus suites, and procedures to ensure that your flight training is consistent with other Cirrus pilots' training and with that of the factory training at Cirrus Headquarters.

CSIPs can accommodate almost any flight training request or requirement and are the preferred training providers by leading insurance underwriters. Cirrus Aircraft strongly recommends that all initial and recurrent Cirrus training be conducted by a CSIP, a CTC, or with a factory instructor from Cirrus Headquarters. Schedule your next flight with a Cirrus Standardized Instructor Pilot near you.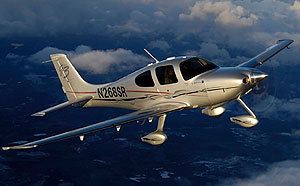 Cirrus services offered:
Cirrus Transition training
Avidyne / Perspective and Turbo Differences training
Insurance-mandated recurrency training
Flight Review (BFR)
Instrument Proficiency Check (IPC)
Acceptance & delivery from the factory
Ferry / maintenance / repositioning flights
Learn while you travel pilot services
Customized programs tailored to your needs
Ferry / Delivery: One of the most fun missions is to go get your new airplane in another part of the country, and fly it home – getting your checkout training along the way. Greg works with new Cirrus owners all the time – picking up a new plane at the factory in Duluth, or picking up a new-to-you plane anywhere in the country and getting it back home with you.
As an alternative to large flight schools / flying clubs, Greg offers his own 2004 SR22-G2 for rental during training.  If you plan to be in the San Francisco Bay Area anytime soon, consider making a reservation to rent the plane and hire Greg for a few hours.  You might want to experience flying the San Francisco Bay Tour or take the 50 minute flight to Lake Tahoe for some incredible scenery and mountain flying experience.
Whether you already own a Cirrus, or are thinking of transitioning (or buying), contact Greg to discuss your flight training plan. He looks forward to speaking with you!
---
// READBACK