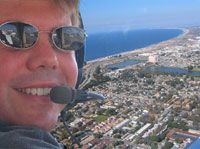 Flying is about more than instruments and mechanics. It's about experience. Instinct. Freedom. Safety. Now you can get top-notch, real-world training from experienced pilot and gifted teacher, Greg West – and take your flying skills to new heights.
Whether you're a beginner pursuing your dream of learning to fly, or a time-tested pilot seeking to stay current, you'll get it here.
You'll gain these incredible benefits by training with Greg:
Real-world, scenario-based training. As opposed to other flight instructors who confine you to repetitive exercises in a practice area, Greg's hands-on, real world training will help you feel secure every time you climb into the cockpit — because you will have already experienced many more scenarios.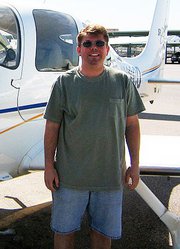 The most up-to-date safety techniques and technology, guaranteed. Flying is safe when you do it right. Greg makes it a point to stay on top of every development so you can be sure you're always protected by multiple layers of safety.
Total satisfaction – or your money back. Choosing a flight instructor is a big decision. So enjoy Greg's risk-free, 100% money-back satisfaction guarantee. If, for any reason you're not completely satisfied with your flight lesson, just let Greg know and he'll refund your money…no questions asked.
Experience. Passion. Safety.
Greg West is an experienced pilot and gifted flight instructor based in San Jose. He is passionate about safety and always keeps up-to-date on the most current technology. He has achieved the highest WINGS "Master" Phase from the FAA Safety Team, is an active participant in Air Safety Foundation Courses, and has completed the most advanced instructor designation offered by Cirrus Aircraft – Platinum CSIP – Cirrus Standardized Instructor Pilot.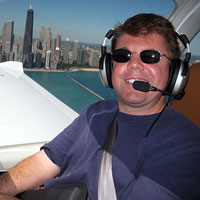 "I was one of those guys who always wanted to learn how to fly, but never took the plunge," Greg says. "Finally, after allocating the time and money for it, I started flying lessons. I was hooked immediately. And I was kicking myself, asking 'why did I wait so long to do this?'"
"Aside from becoming a father, this has been the most rewarding experience of my life. I'd love to share my passion and knowledge with you!"
Greg is an Airline Transport Pilot (ATP) and Flight Instructor with Instrument and Multi-Engine designations (CFII/MEI). He is a specialist in Cirrus (SR22T, SR22TN, SR22, SR20), and has ample experience teaching in Cessna 172 & 182, Diamond DA40 & DA42, and some Piper models. For multi-engine training, Greg has experience in the Diamond DA-42 TwinStar and Twin Diamond DA42-NG.
When he's not in the air, Greg enjoys spending time with his wife and two boys – typically involving outdoor sports activities, movies, concerts, summertime swimming & BBQs, and wintertime ice skating on frozen lakes in the Midwest. He's an avid international traveler, an accomplished dot-com marketer, and says he still misses his early career days as a radio announcer.
Ratings and Qualifications
Airline Transport Pilot (ATP) – Single & Multi Engine Land
Type Rated in Embraer E170 (76 passenger regional jet)
Flight Instructor (CFII / MEI) – Single & Multi Engine Land, Instrument Airplane
Chief Pilot (Part 135 Air Taxi) – QuikCharter
Cirrus Platinum CSIP – Standardized Instructor Pilot

More than 4700+ hours in TAA – Technically Advanced Aircraft (glass cockpit)

Advanced Ground Instructor (AGI)
Mission Pilot & Webmaster, Angel Flight West volunteer
FAA Safety Team – SJC Representative & WINGS "Master" Phase
Member, Aircraft Owners & Pilots Association (AOPA)
Participant, AOPA Air Safety Foundation (ASF) – numerous courses
Flight Instructor, Cirrus Pilot Proficiency Program (CPPP) multiple sessions on West Coast
Trained locally in the complex San Francisco Bay Area airspace
Extensive General Aviation travel throughout California and nationwide, Canada, and Mexico
Please contact Greg if you have any questions about his flight training services. He looks forward to hearing from you!
---
// READBACK