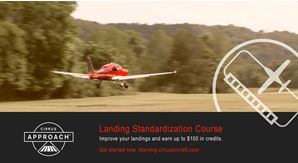 Cirrus Landing Standardization Course

In the interest of further reducing landing accidents, Cirrus has offered the following which is valid until 12/31/15.
Any Cirrus Pilot who completes the course will receive a $50 discount towards the Cirrus Pilot Connection store and $50 off of their next CPPP registration.
That's fantastic!   Here's how:
Enroll yourself in the course on the Cirrus Learning Portal (http://learning.cirrusaircraft.com/)
Take the online course (about 30 minutes)
Complete the flight segment with your favorite CSIP (or contact me and we can do it here in the San Francisco area)
Spend your $50 gift certificate at the Cirrus Connection and take $50 off your next Cirrus Pilot Proficiency Program (CPPP) event
Easy!  Sign up now.  Your landings will be awesome.