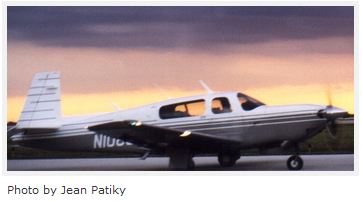 Don't discount a small plane as a powerful business tool. For trips under 600-800 miles, it can beat airline times by a huge margin; and on 100-200 mile flights, you'll be in close competition with corporate jets for performance and a big winner on efficiency.
Reprinted from Forbes.com (I thought it was a great article! Link to it here:)
http://www.forbes.com/sites/businessaviation/2012/08/20/take-the-pain-out-of-business-travel-fly-yourself/
When a client in Teterboro, NJ—a stone's throw from Manhattan—called and asked to meet the next morning, I had a few choices.
Traveling from Providence, RI, by road was particularly unappealing. That's a four-hour trek down Interstate 95 where construction and traffic delays for at least a third of the route are a given. And then there was the dismal prospect of frazzled, grouchy New York drivers battling for rush-hour lane supremacy on the maze of highways across the New York area. Forget that.
Time To Spare, Go By Air
Sure, Providence airport is 15 minutes away. Delta has a $2,000 (are they kidding) round-trip fare to Newark that takes six hours (!) each way. That's without the 90 minute pre-departure clear-security-get-to the-gate time penalty. You could fly to Bora Bora for less money.
Ok, let's be fair: Hot Wire found a nonstop United commuter flight. While the one hour and seven minute schedule sounded attractive, it still meant arriving 90 minutes prior to departure time, plus another half-hour road trip to Teterboro. Door-to-door, my car was faster. The real clincher was the next-day, round-trip $1,000 fare! It was certainly half-price but, no thank you.
Ah ha! North Central Airport, 15 minutes to the north, is where I keep my Mooney. Let's see. Leave home at 8 am, takeoff by 9 am and arrive at 10 am. No contest!
Cleared For Takeoff
On a short hop like this, I'll travel at 220 mph and get better gas mileage than a Hummer—20 gallons each way. It was summer so the only weather that would deter me would be fog (none), and thunderstorms (none). Still, I filed IFR (instrument flight rules), which put me in the air traffic system along my route together with other small-piston-powered aircraft like mine, corporate jets, commuter turboprops and of course major airlines—but not the Delta flight that was heading to Atlanta before returning to Newark.
My routing was more or less a straight line to Teterboro. Cleared at 6,000 feet, I knew the corporate jets and airliners would be well above me. That was indeed the case. Although air traffic control (ATC) keeps every IFR aircraft separated by a healthy margin, one needs to keep a watchful eye. Still, on the entire flight through the heavily trafficked areas between Boston, Providence, Hartford and New York, aided by my panel instrument that shows air traffic, I saw only one other plane and that was an airliner in the New York area. There was nothing even remotely nearby, and in the busy Teterboro area where ATC vectors everyone in a safe and efficient conga line to avoid Newark traffic, the flight was equally routine. The nearest plane was a Falcon Jet five miles behind me.
Advanced Technology = Safety And Efficiency
Mooney's, and the new crop of small planes like the Cirrus and the Cessna Covalis TT, can fly approaches to nearly match the speed of corporate jets, so spacing is rarely an issue. In addition, the latest crop of light, piston-powered aircraft are better equipped than many airliners five years ago. Even my 20-year old Mooney, which is retrofitted with moving map displays (three) that show weather, traffic plus approach charts, makes a 10-year old Boeing look like a dinosaur. My autopilot will fly the latest GPS approaches to the same minimum altitudes as any airliner or corporate jet and when I land, a large image of the airport taxiways displays so that I know exactly where I am.
After landing, I taxied up to one of several facilities at Teterboro dedicated to business aircraft and was greeted with a smile and "how can we be of service." I walked from my plane to the facility, out the lobby and to the office building nearby. Not only was I was early for my 10:30 meeting, it was great fun getting there, proving that business travel can not only be efficient, but also enjoyable.
The Right Tool For The Job
That's the beauty of Teterboro and airports like it. Business aviation can use metropolitan area reliever airports like this. They surround every major city and they're often closer to one's ultimate destination (in my case across the street). In addition, many thousands of other airfields serve smaller cities, towns and local communities across the nation. So, Delta, United and American, while you give great service between New York and LA, you just don't go where I and tens of thousands of business flyers need to go.
It's amazing to realize how powerful a business tool even a small airplane can be. But whether you fly yourself or sit in the cabin of a much faster and capable business jet together with your colleagues, there is more to it than saving time and money. You can make travel a pleasure again—actually make it fun. How do you put a price tag on that?