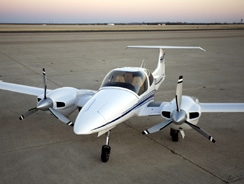 Greg provides Glass Cockpit training in the Diamond DA42 TwinStar at West Valley Flying Club in Palo Alto. These modern light twins are really fun to fly.
There are differences between the original DA-42 TwinStar and the new Twin Diamond DA42-NG. The NG ("new generation") has the new Mercedes engines and a number of subtle differences in the fuselage and flight characteristics. Most notably, the NG is heavier, has higher V speeds (e.g. rotate at 80 instead of 70), and the engine cowls are shaped differently to handle the new engines. Greg's opinion is that it taxis and flies just a little easier than the original TwinStar. When doing single engine work, rudder pressure required to 'split the ball' is less, and engine out procedures are just a bit easier to handle overall.  (Due to legal issues according to Diamond, because of the changed airframe and new engines we're supposed to call it a "Twin Diamond" – not a Twin Star.)
There is a Twin Diamond DA42-NG at Ahart Aviation in Livermore, which is currently the only DA42NG available for training in the San Francisco Bay Area. As of January 2014, Ahart is currently accepting only students who wish to train full-time to become a career pilot.
You can fly with Greg in the original DA42 TwinStar at West Valley Flying Club in Palo Alto.  Contact Greg today and get flying!