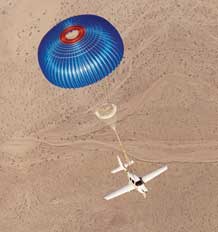 The Cirrus safety record could be better if pilots would do just one thing when unrecoverable trouble strikes – PULL THE CHUTE!
A story on AVweb.com reveals that the safety record of Cirrus SR series aircraft is just average.
The magazine also examined how effective CAPS has been and concludes that when deployed under optimal conditions of speed and altitude, the system has proven effective in saving lives and preventing serious injury.
From the article: The Cirrus Owners and Pilots Association has studied Cirrus accidents extensively and concludes that the models would have a much better safety record if some 83 pilots who got into trouble in circumstances where CAPS was well within its envelope had simply used it. COPA is developing new training methods to teach pilots how to include CAPS more effectively in their response to abnormal flight situations.
Read the entire article here.
If you're in northern California, feel free to contact me for your Cirrus flight training needs. When we're training in a Cirrus, we will repeatedly examine situations where pulling the chute is the best answer to an emergency.
Fly safe,
Greg